It has been a long ass time since I last updated, and I am sincerely sorry for the delay! With the end of summer came the end of my time in DC, along with three moves in the span of four days. So! Now that I'm back in Wisconsin (...) and school has started (...), life is slowly returning to normal. And because the new school year (my fifth, and my last, year of college) has started, I thought I'd do a post detailing some upcoming book releases I'm pretty excited about.
THE DUFF by Kody Keplinger
September 7th, 2010
Seventeen-year-old Bianca Piper is cynical and loyal, and she doesn't think she's the prettiest of her friends by a long shot. She's also way too smart to fall for the charms of man-slut and slimy school hottie Wesley Rush. In fact, Bianca hates him. And when he nicknames her "Duffy," she throws her Coke in his face.

But things aren't so great at home right now. Desperate for a distraction, Bianca ends up kissing Wesley. And likes it. Eager for escape, she throws herself into a closeted enemies-with-benefits relationship with Wesley.

Until it all goes horribly awry. It turns out that Wesley isn't such a bad listener, and his life is pretty screwed up, too. Suddenly Bianca realizes with absolute horror that she's falling for the guy she thought she hated more than anyone
.
My Thoughts:
There's been a lot of hype over this book, and all of it seems overwhelmingly positive. I know a few people who've read ARCs and loved it, so I'm excited to snag a copy for myself! Plus, a book about the (D)esignated (U)gly (F)at (F)riend sounds like it'll be awesome.
~
TORMENT by Lauren Kate
September 28th, 2010
How many lives do you need to live before you find someone worth dying for? In the aftermath of what happened at Sword & Cross, Luce has been hidden away by her cursed angelic boyfriend, Daniel, in a new school filled with Nephilim, the offspring of fallen angels and humans. Daniel promises she will be safe here, protected from those who would kill her. At the school Luce discovers what the Shadows that have followed her all her life mean - and how to manipulate them to see into her other lives. Yet the more Luce learns about herself, the more she realizes that the past is her only key to unlocking her future...and that Daniel hasn't told her everything. What if his version of the past isn't actually the way things happened...what if Luce was really meant to be with someone else?
My Thoughts:
While I found the first book fairly predictable, it had its redeeming qualities. I really enjoyed the setting, and the main character was incredibly likable. To be honest, I haven't read the last chapter of the first book, FALLEN, but I'm sure I'll get to it before this one comes out. Plus, come on. The cover is gorgeous.
~
CRESCENDO by Becca Fitzpatrick
October 19th, 2010
From Goodreads:
Nora should have know her life was far from perfect. Despite starting a relationship with her guardian angel, Patch (who, title aside, can be described anything but angelic), and surviving an attempt on her life, things are not looking up. Patch is starting to pull away and Nora can't figure out if it's for her best interest or if his interest has shifted to her arch-enemy Marcie Millar. Not to mention that Nora is haunted by images of her father and she becomes obsessed with finding out what really happened to him that night he left for Portland and never came home.
The farther Nora delves into the mystery of her father's death, the more she comes to question if her Nephilim blood line has something to do with it as well as why she seems to be in danger more than the average girl. Since Patch isn't answering her questions and seems to be standing in her way, she has to start finding the answers on her own. Relying too heavily on the fact that she has a guardian angel puts Nora at risk again and again. But can she really count on Patch or is he hiding secrets darker than she can even imagine?
My Thoughts:
I read the first book in the series, HUSH, HUSH, back in November, right when I returned from Ireland. I had nothing to do for months, so I got back into reading YA. I picked the first book up based on the cover, which I still think is gorgeous, and found that I actually really enjoyed the story. I'm excited to see if the second book is as good as the first.
~
THE MOCKINGBIRDS by Daisy Whitney
November 2nd, 2010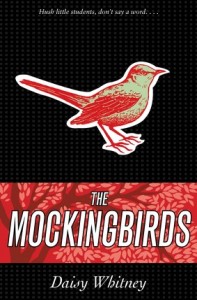 Some schools have honor codes.
Others have handbooks.
Themis Academy has the Mockingbirds.

Themis Academy is a quiet boarding school with an exceptional student body that the administration trusts to always behave the honorable way--the Themis Way. So when Alex is date raped during her junior year, she has two options: stay silent and hope someone helps her, or enlist the Mockingbirds--a secret society of students dedicated to righting the wrongs of their fellow peers.

In this honest, page-turning account of a teen girl's struggle to stand up for herself, debut author Daisy Whitney reminds readers that if you love something or someone--especially yourself--you fight for it.
My Thoughts: I really like contemporary YA, especially the more edgy/gritty stuff. So this one seems right up my alley.
~
THE WATER WARS by Cameron Stracher
January 1st, 2011
Vera and her brother Will live in the shadow of the Great Panic, in a country that has collapsed from environmental catastrophe. Water is hoarded by governments, rivers are dammed, and clouds are sucked from the sky. But then Vera befriends Kai, who seems to have limitless access to fresh water. When Kai suddenly disappears, Vera and Will set off on a dangerous journey in search of him-pursued by pirates, a paramilitary group, and greedy corporations. Timely and eerily familiar, acclaimed author Cameron Stracher makes a stunning YA debut that's impossible to forget.
My Thoughts: I religiously followed the voting for the book's cover, and am really impressed with the final selection. Plus it's another dystopian, so I'm a goner.
~
XVI by Julia Karr
January 6th, 2011
In the year 2150, being a girl isn't necessarily a good thing, especially when your sixteenth (read sex-teenth) birthday is fast approaching. That in itself would be enough to make anyone more than a little nuts, what with the tattoo and all – but Nina Oberon's life has taken a definite turn for the worse. Her mother is brutally stabbed and left for dead. Before dying, she entrusts a secret book to Nina, telling her to deliver it to Nina's father. But, first Nina has to find him; since for fifteen years he's been officially dead. Complications arise when she rescues Sal, a mysterious, and ultra hot guy. He seems to like Nina, but also seems to know more about her father than he's letting on. Then there's that murderous ex-government agent who's stalking her, and just happens to be her little sister's dad.
My Thoughts: I love futuristic dystopians. End of story.
~
THE DARK AND HOLLOW PLACES by Carrie Ryan
March 22nd, 2011
There are many things that Annah would like to forget: the look on her sister's face when she and Elias left her behind in the Forest of Hands and Teeth, her first glimpse of the horde as they found their way to the Dark City, the sear of the barbed wire that would scar her for life. But most of all, Annah would like to forget the morning Elias left her for the Recruiters.

Annah's world stopped that day and she's been waiting for him to come home ever since. Without him, her life doesn't feel much different from that of the dead that roam the wasted city around her. Then she meets Catcher and everything feels alive again.

Except, Catcher has his own secrets -- dark, terrifying truths that link him to a past Annah's longed to forget, and to a future too deadly to consider. And now it's up to Annah -- can she continue to live in a world drenched in the blood of the living? Or is death the only escape from the Return's destruction?
My Thoughts:
I really enjoyed the first book in this series, THE FOREST OF HANDS AND TEETH. I have yet to pick up the second book, THE DEAD-TOSSED WAVES, but I definitely plan to do so before this third installment comes out. Also, another incredible cover. And Carrie Ryan is an incredible writer.
~
RIPPLE by fellow LTWF contributor, Mandy Hubbard
July 21st, 2011
Eighteen year old Lexi Wentworth is cursed. For as long as she can remember, she's spent every night swimming. If she doesn't, she'll regret it—simply walking will be agony, as if she's stepping on shattered glass. Her body craves the water, demands the water, until she can't say no.

But it's not the swimming that troubles Lexi. It's the singing that goes with it.When she turned sixteen, her siren song killed the only boy she's ever loved. Now, she avoids the popular shores of the Pacific in favor of a long forgotten lake up in the mountains, where she can swim and sing in peace, far from the population of her oceanside home.

Until, that is, Cole Mills discovers her lake. He's new to Lincoln City High, and he doesn't know about Lexi's reputation as an ice queen—a reputation she's carefully cultivated to keep everyone around her safe. He pushes her, talks to her, forces her to dream of what life could be like if she weren't a siren.

Lexi can't stop herself from warming to him, from falling for him. Soon, he's demanding answers, following her to the lake, unknowingly risking his life. How can she keep him safe when the one thing she wants most--to hold him close-- will endanger his life?
My Thoughts: I've been hearing about it for so long that I get jittery whenever Mandy mentions it now. I think the idea behind it is fantastic, and I'm really excited to read something that isn't about angels or vampires or gods/goddesses.
~
What books are YOU looking forward to?